De winnaars van de vijfde editie van de Sabam Awards
Vanavond werden in de Brusselse KVS voor de vijfde keer de Sabam Awards uitgereikt.
Sabam zet hiermee haar leden in de verschillende disciplines - muziek, audiovisueel werk, theater & dans, visuele kunsten en literatuur - in de schijnwerpers.
Aan elke award is een geldprijs van € 2.000 verbonden. De Sabam Awards vinden afwisselend plaats in de beide gemeenschappen. Friedl' Lesage leidde de show in goede banen.
Na lange beraadslagingen kozen de verschillende externe jury's volgende winnaars:
 
MUZIEK
Pop/Rock: Millionaire – Sciencing
Alternatief: TaxiWars - Fever
Hedendaags klassiek: Robert Groslot – 1stePiano Concerto
Nederlandstalig: Het Zesde Metaal – Calais
Electronic: Soulwax - FROM DEEWEE
Airplay (voor het meest gedraaide nummer op Vlaamse radio's): Lost Frequencies – Reality
- uitgever: Tous Ensemble Publishing- Strengholt Music Publishing Belgium
- auteurs: Felix De Laet, Janieck Devy en Radboud Miedema.
Export (voor het nummer dat het meeste auteursrechten uit het buitenland ontving): Lost Frequencies - Reality
 
AUDIOVISUEEL WERK
Fictiefilm: Home - Fien Troch
Fictiereeks: Bevergem - Bart Vanneste, Wannes Cappelle, Gilles Coulier, Dries Heyneman en Joost Laperre
Documentaire: Een kwestie van geluk - Kat Steppe, Jan Van der Weken, Jan Daneels, Stev Van Thielen, Rene Vermeulen, Alexandra Lens, Tom Lenaerts en Kato Maes
 
LITERATUUR
Roman: Joost Vandecasteele - Jungle
Jeugdliteratuur: Michael De Cock - Rosie en Moussa voor altijd (illustraties: Judith Vanistendael)  
 
THEATER & DANS
Theater: Stefan Lernous - BUKO
Jeugdtheater: Lies Pauwels - Het Hamiltoncomplex
 
VISUELE KUNSTEN
Sofie Muller
 
Verder kreeg Brihang een eervolle vermelding in de categorie 'Nederlandstalig', net als 'Generatie B' van Joost Vandecasteele en Pieter Van Hees in de categorie 'fictiereeks' en 'Bobbejaan' van Benny Vandendriessche en Tom Schoepen in de categorie 'documentaire'.

Naast een optreden van Jasper Steverlinck, speelde pianiste Eliane Rodrigues een compositie van Robert Groslot en las Joost Vandecasteele met verve een fragment uit 'Jungle', zijn bekroonde roman.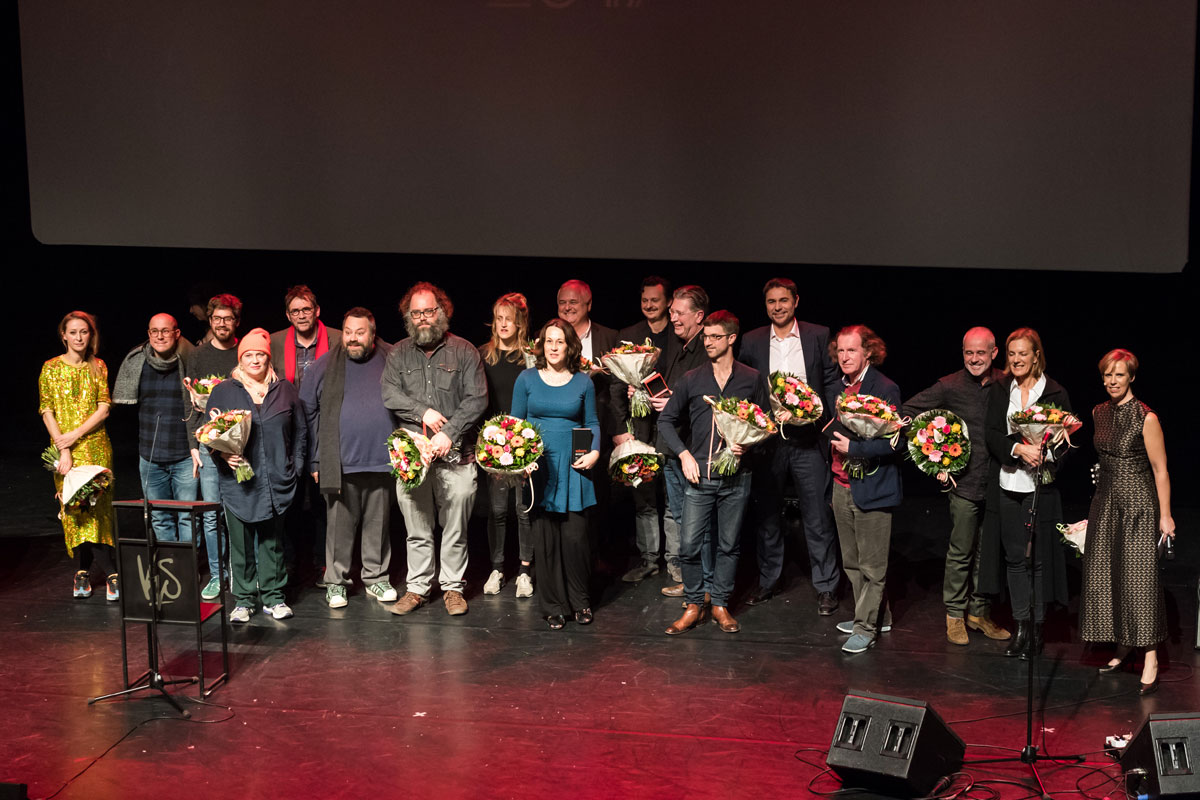 About Sabam
Sabam was founded in 1922 by authors and for authors. As a private company, Sabam manages and distributes the royalties that come to the authors. It is the intermediary between the creative artist and the user of the works. Sabam guarantees a fair remuneration of the authors for the use of their works outside the family circle.
Being the largest cultural company in Belgium, it represents 41,000 authors and more than 4 million creations. Sabam is playing an active role in the distribution of cultural products in Belgium and abroad by way of the support it grants to authors and of the network it puts at disposal.
Sabam represents the Belgian as well as the international musical repertoire. Sabam is a multidisciplinary society and is made up of composers, lyricists, publishers, playwrights, choreographers, directors, scriptwriters, writers of dialogues, radio makers, authors of subtitles, translators, novelists, poets, comic strip authors, illustrators, journalists, sculptors, painters, video makers, drawers, photographers, graphic artists, ...